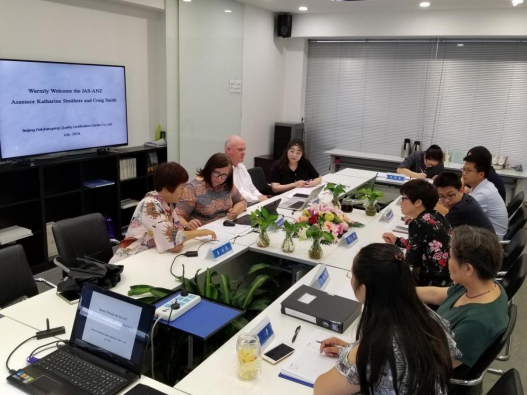 On July 10th -12th of 2018 Joint accreditation system of Australia and New Zealand conducted the reaccreditation assessment to Beijing Daluhangxing Quality Certification Center Co., Ltd.
At the opening meeting, the leader of assessor team made a detailed explanation of the purpose, scope and method of the review. Management representative has warmly welcomed the visit of assessor team and given the brief introduction of the relevant work and status of HXQC certification management activity.
During the three days assessment, the assessor team conducted careful and meticulous review through on-site verity documents, inquiries, observations record sampling, etc and also communicated with detailed exchange with company leader and related personnel. During the assessment HXQC fully affirmed and evaluated the extensive work done in the management system certification, at the same time, propose the improvement and suggestions for the present issue and insufficient.
In the closing meeting, the assessor team given a brief report on the assessment work and the result, management representative expressed her gratitude to the assessor team for their sincere help in this reaccreditation assessment. For the issue and insufficient raised by the assessor team
We must do a good job of rectification, further strengthen the company's work management, and continuously enhance the effectiveness of certification and improve service capabilities.
The assessor team finally made: JAS-ANZ reaccreditation assessment result is recommendations pass.